Training
Training for hair extensions in Dresden!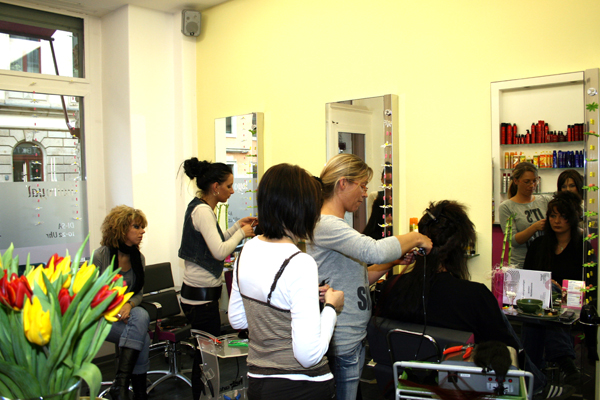 Appointments 2019 in our training center Hairoyal® in Dresden
Monday, 07.01.2019
Monday, 04.02.2019
Monday, 04.03.2019
Monday, 15.04.2019
Monday, 13.05.2019
Monday, 17.06.2019
Monday, 22.07.2019
Monday, 05.08.2019
Monday, 16.09.2019
Monday, 14.10.2019
Monday, 04.11.2019
Monday, 09.12.2019
Appointments Hairoyal® On Tour 2019

Monday, 21.01.2019 Munich
Monday, 18.02.2019 Düsseldorf
Monday, 25.03.2019 Hamburg
Monday, 29.04.2019 Stuttgart
Monday, 27.05.2019 Berlin
Monday, 24.06.2019 Frankfurt
Monday, 01.07.2019 Hannover
Monday, 19.08.2019 Erfurt
Monday, 02.09.2019 Nuremberg
Monday, 28.10.2019 Cologne
Monday, 25.11.2019 Munich
Monday, 02.12.2019 Berlin



As a wholesaler of hair extensions and equipment we educate hair dressers, stylists and interested people for hair extension since years. We dispose about an extensive and perennial experience of professional application of Human Hair Extensions!
In small groups you will be taught individually of our specially trained hair dressers. At the end of the training you will receive a certificate which authorises you to carry on the service of hair extension. We exclusively handle with extensions, instruments and equipment of she by SO.CAP., all needed materials will be provided by us.
Sequence of the training
Start: 09:00 o´clock, End: ca. 16:00 o´clock
Theoretical Part
Greeting
Instruction of hair qualities, source, etc.
Calculation and profit assesment
Customer advice, consultation, typical questions and obscurities
Marketing operation
Care indications, handling of extensions
ca. 12:00 o´clock Lunch (Provided will be a little snack, coffee and soft drinks)
Practical Part
We will allocate models on which the participants could practice. We will provide the materials and the necessary equipment during the training.
Preparation, Section, etc.
Application of she hair extensions with the help of the trainer
Editing technique, styling, conclusion
Removing of extenions
final discussion, handing over of the certificates
Place of the Training
Salon Hairoyal
Louisenstraße 48
01099 Dresden (Neustadt)
Tel.: 0351 8104031
The place of the trainings in other cities will be announced 2 weeks before.
Costs
329,00 EUR net (391,51 EUR gross incl. VAT)
Application (at the latest 4 weeks before) either per post to - HAIROYAL, Schlesischer Platz 2, 01097 Dresden
- or per Fax - 0351 8106214 - back
Low priced sets you fibd here:
Bank Transfer
Please transfer the costs of 391,51 EUR after our confirmation 4 weeks before appointment to:
HAIROYAL Ostsächsische Sparkasse Dresden IBAN: DE21 8505 0300 3200 0113 93 BIC: OS DD DD 81
As reference please name your first and last name and the keyword training.
The General Terms and Conditions of company HAIROYAL shall apply, private customers have an 14-days-right of withdrawal.
The right of withdrawal and our terms of business, you find on the backside of this document or under http://www.hairoyal.de/shop_content.php/coID/30/product/Verbraucherinformationen, are applicable.
Please note that with cancellations within 2 weeks before training 50 % of the fee will be retained. In default of appearance it will be 90 %. The right of withdrawal remains untouched.
Application Form
For this view you need the current version of Acrobat Reader!
For questions please don't hesitate to call: 0049 351 - 810 62 12
Best regards
Your Team Hairoyal